The State of Twine, and a Shipping Update.
Hello Kickstarter backers,
For this week we've put together our most comprehensive update so far—we call it the State of Twine.  This update covers all aspects of Twine: the electronics and hardware that make Twine tick, the rubbery yet firm case that protects those insides, the layers of the software that keep in constant touch with thousands of Twines and communicate with a multitude of other services (email, SMS, Facebook, Twitter, HTTP, and few surprises), and finally Spool, our web application that helps you set up your Twine and keeps you up to date on its status.
As you can tell just by the length of the last sentence, there's clearly a lot to do.  It's not enough to merely get all of these pieces built and tested—we believe that having an incredible user experience is the core of what Twine is about. We won't be finished until Twine is easy, fun, and has that little bit of magic in it that makes it a Supermechanical object.
Lets start our whirlwind tour with Twine's electronic entrails, the hardware.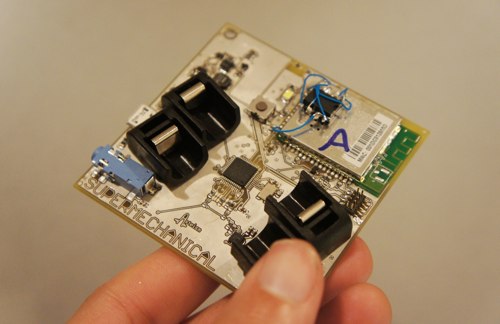 Our third full revision is complete, and David is running it through the ringer to make sure it meets all of our performance requirements.  Meanwhile, our trusty hardware engineer, Rehmi Post, is rolling all of our improvements into the design for almighty revision four.  We're really excited about his work there because not only is revision four very close to the production version, Rehmi's been working extra hard to make it more compact at the same time.  So far it's looking really nice—keep up the good work, Rehmi!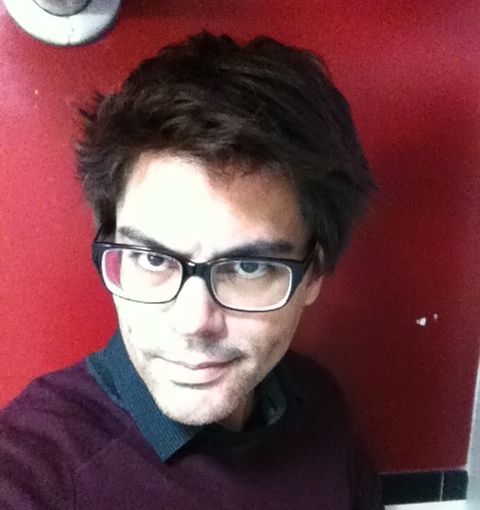 The fabulous Rehmi Post.
Production is one area where we've been victims of our own success. You've made us so successful that the project has had to scale beyond our original plan. To meet the demand we need to build about 6,000 Twines, about 30 times the number we anticipated when we launched.
When you build 6,000 of anything, interesting new challenges pop up.  For example, we've ordered 24,000 battery clips, 17,000 headphone connectors, 6,000 ARM processors, and more than $100,000 worth of wireless modules.  A few times, we've needed more of a particular component than the entire world has in stock.  We had to call up the factory and have them make more flash memory chips—just for you guys.  That's crazy.  
Sometimes it takes many weeks for the factory to make those new parts, and unfortunately that can wreak havoc on a schedule. Twine is completely made in the US (no small feat), but the supply chain is long and complicated. Even US suppliers have to get some components from overseas. And another obvious thing we don't think about in the Information Age — parts typically take several weeks to get to the US by boat!  We paid more to have our parts air freighted.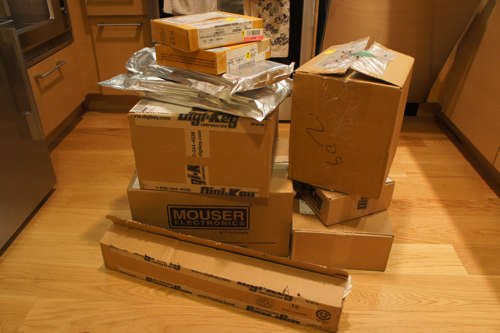 We've done our best to minimize those delays through careful component selection and by purchasing everything as early as possible.  Here's a picture of our current stockpile in David's apartment.  If you were to fire up all of the ARM processors in those boxes, their combined speed would be about 672 GHz!!!
All right, enough hardware — on to the case.
It's probably safe to say that no part of the project has seen more changes than the case design.  We originally planned to cast the electronics by hand directly into a solid block of rubber.  When we though we were going to make 200 Twines (hah!), that would have worked fine.  However, to make 6,000 Twines there is only one real way, and this is injection molding.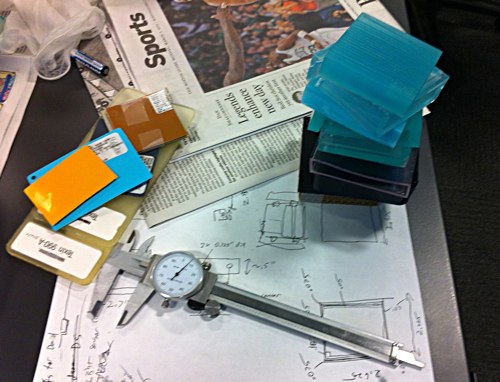 Moving to injection molding has cost John most of his sleep for the past few months.  It requires metal tooling that costs up to $40,000 and can't really be modified after it is produced.  Also, due to the temperatures and pressures involved in the molding process, the electronics can no longer be cast inside a solid block.  We've spent many, many hours trying to design a stiff protective body that still meets our goal of being soft and friendly to the touch, within the constraints of automated processes. Sounds like a contradiction, right?  We got a whole education here very quickly, both from talking to manufacturing partners and, as you can see above, from making many more prototypes.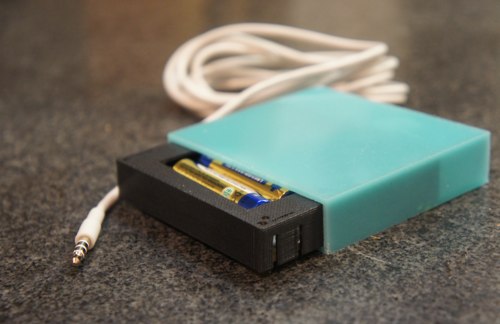 The approach we've ended up with has a strong ABS shell that provides mechanical support for the batteries, protects the PCB, and provides rigidity to the overall form.  Over this inner skeleton, we slip a soft Santoprene skin that dampens any shocks and gives the outside of Twine a great rubbery feel.  We can't cast the final material by hand in our prototypes, so we're using a urethane rubber that shares several qualities with Kraft American cheese.  Rest assured, once we're happy with the dimensions and structural properties, we'll re-add the texture, and raised surface features and things will start looking pretty stellar again.
Software
Twine has quite a few layers of software.  There are no less than three ARM processors on the Twine itself, and the code for each of them is a world unto itself.  This has resulted in a dramatic reduction in the amount of hair that David has left.  Well, at least he's been writing good code.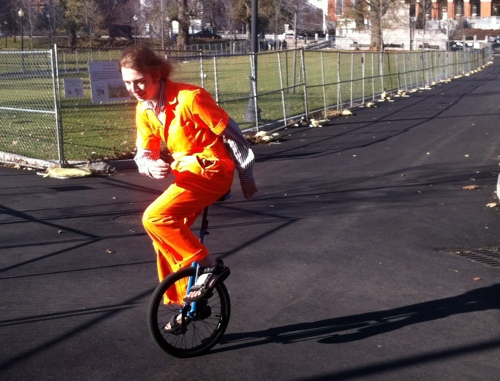 Peter, pictured above, is our lead cryptographer and the big gun that we bring in whenever we get really stuck on a coding problem.  He's also the only eighteen-year-old we know who was accepted to graduate school at MIT.
On the web side, we've launched the Spool portal.  If you're a backer, you should have gotten an email with a special link that allows you to access the site.  Please help us test it at large scale by logging in to create your account. (If you were quick on the draw and got the maintenance page, try again now.)  Once you log in, you can verify that we have your Kickstarter order correct, and you'll be able to track your individual Twine as it goes through the manufacturing process and finds its way home to you.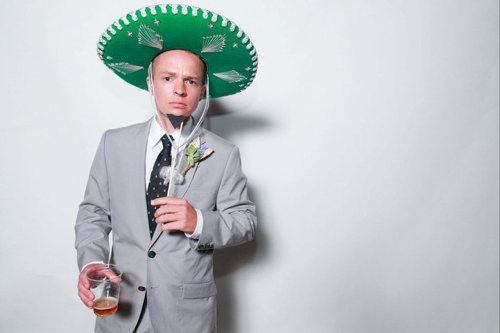 Jay is a master web craftsman who's been critical in getting the Spool web app up to speed. You've probably used some of the sites he's helped build, including those of U-Haul and the Federal Communications Commission.
Getting Twine in your hands
When we sat down to write this update, we wanted to bring all of our backers up to speed on where we are with Twine.  We hope it's evident how incredibly much work has gone into Twine so far, and that we are very close to a working Twine platform.  It really is no joke to say that we work on Twine, eat, sleep, and not much else.
Nonetheless, there are still some significant challenges left out there, mostly in the domain of supply and manufacturing, and also in quality assurance.  We're starting to sound like a broken record, but it is so important to us that Twine works as well as it should.  We won't ship an unfinished product—it would only be expensive and frustrating for everyone involved.  We're really sorry to say that we won't be shipping in March. The scale on which you guys made Twine successful, ironically has made that goal impossible to meet.  Instead, we have taken a step back, evaluated where we are, rubbed our crystal ball, added a bit of margin, and created our best estimate for a new ship date.  That date is May 31st.
Between now and then, we will continue to hold our noses to the grindstone, and step by step, conquer each challenge that lays in our path.  We will, of course, continue with our regular updates to keep you in the loop to share all of our victories and setbacks along the way.  Since January, Twine has come a very long way.  We're excited to share the rest of that journey with you, so stay tuned.
—David, John, and the entire Twine team